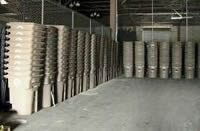 One Cart
The monthly charge for weekly trash collection for one 96-gallon cart is $30.
Second Cart
The additional monthly cost for a second cart is $15, which is assessed when you receive the second cart. If you have two carts, your total monthly charge is $45.
Excess Trash Tags
$4.00 per tag
How are the fees determined?
The monthly fees were calculated by determining the cost of collection and disposal, including the costs for equipment, staff, fuel and disposal at the Layon Landfill. These costs include those for construction of the new landfill and debt service on the Government of Guam's loans and bonds associated with the construction of the landfill.

Do I pay for service even if I do not set my cart out for collection?
Yes, once you sign up for weekly collection service, you will be billed for that service whether you place your cart at the curb or not.
How to Pay Your Trash Collection Bill
Customers may make their payments in any of the following ways:

Online:

Save trees with paperless payment options! View your statements online and pay securely via a PayPal account, credit card or debit card. You do not need a PayPal account to pay with a credit card.
 

Over the Counter Payments (Cash or Check):

Any location of the:

(Customer must present their MOST RECENT invoice/payment coupon. If you need to obtain a recent invoice, please visit GSWA Customer Service)
GPWA

GPWA Fadian Location in Mangilao (Mon.- Fri. 7am – 5pm;
Drive-Thru: Mon. - Fri. 7:30am – 3:30pm)
GPWA Julale Center in Hagatna
(Mon.-Fri. 8am – 5pm)
GPWA Upper Tumon Location
Mon.- Fri. 7:30am–6pm, Sat. 8am-12pm;
Drive-Thru: Mon.- Fri. 6:30am – 3:30pm; Sat. 8am – 12pm)

Bank Pacific
ANZ Bank
The following drop box locations (Checks Only):
Guam Solid Waste Authority (1st floor)
GPWA (Fadian, Julale Center, Upper Tumon)
By mail to:
Guam Solid Waste Authority
546 North Marine Corps Drive
Tamuning, Guam 96913